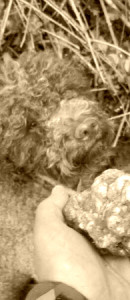 Real Italy! Best Truffle of the world, from Hunter to your House in 24 maximum 48 hour all over the world
Strong supporter of Le Marche Region, Simone (Truffle Hunter) has as its purpose the promotion of our territory and its typical products.. It exposes the importance of traditions and the desire not to forget them by stimulating the new generations to approach these activities, offering them everything they need and the means to collect this precious tuber.
Simone, with the experience of many years in the field of tourism, working with guests from all over the World, around the entire peninsula knows their needs and know how much our product and our territory are appreciated
He explains that these activities, which are now considered by some could revalue Hobbies and advance to the point of becoming chance working full-time so as not knowing crisis.